Road and Bridge Management Program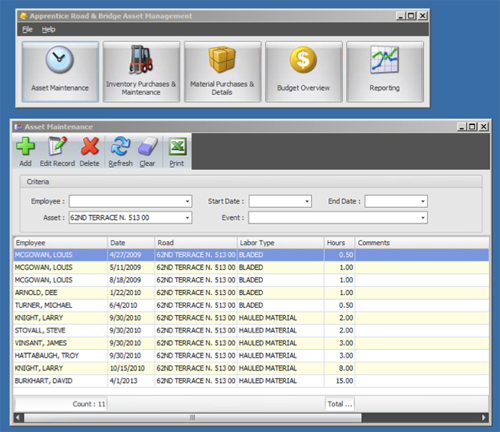 Our Road & Bridge Asset Management program puts the financial records for road and bridge
Maintenance at your fingertips in an efficient and easy to use format.
RBAM will help your road department
Manage projects more easily
Track expenses and work projects quickly and accurately
Manage the budget and track variances
Allow the Judge to quickly answer questions about progress, investment, and project progress
Satisfy FEMA reporting for grants
The program features:
Complete accounting of all road and bridge maintenance performed.
Tracks cost of each job, including both materials and labor.
Track which machines or equipment are used on each job.
Searchable records by employee, asset, or date
Built-in tracking of all inventory purchases categorized by type.
Documents all materials purchased for maintenance by date, number of units, and total cost.
Easily track maintenance of each truck or piece of machinery. Track your cost of ownership of each machine.
Robust budgeting functionality to showing budget amounts.
Revenue adjustments, expenditures, and current balance by line item, budget group, and department.

System for managing affidavits and converting them to a log of payments.

Appropriation maintenance utility to record changes to budget line item.

Line item transfer tool to move line items balances with a budget group.
Comprehensive FEMA reporting. Store FEMA equipment codes for each machine.
Print our FEMA contract labor summaries, FEMA equipment reports, FEMA materials reports, and more.

Customize employee groups, asset types, vendors, material types, and much more to fit the needs of your county.

Ability to export all information into Excel.

Robust reporting of maintenance and budgeting.
« Back